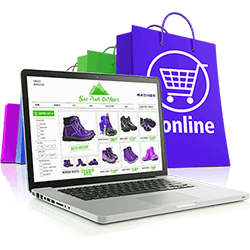 If you have decided that you want to sell things on the Internet and eBay and Craigslist are not what you are looking for. You might want to build your own eCommerce website.
(Disclaimer: Purchases through links on our site may earn us an affiliate commission.)
An eCommerce website will require more involvement than a static website. That is because it is constantly changing, it must also some sort of search capability feature & you must be able to accept secure payments from customers.
If you have the budget set aside for creating your eCommerce website you can hire someone to build and create it for you. If you don't have the budget for this or are looking to save some money then you can create it yourself, but you have to make sure that you are committed to completing the task.
Below we have some helpful tips that you may use if you are going to create your eCommerce website yourself:
Website Domain Name
If you don't already have a domain name for your eCommerce website then you must 1st register the domain name that you want to use & buy web hosting (unless you have your own server) to host your website on.
A basic eCommerce website is fairly easy to create & design using just a basic website editor & templates that are usually provided with most web hosting plans.
Shopping Cart
You'll need to choose a shopping cart script (software). Many are just plugins that will work with a pre-existing website templates and other shopping cart scripts (software) are completely separate and customizable and require a higher level of user involvement.
Try to choose 1 that suit's the needs your business & products. One important thing to look for is a search capability & results display .
Shopping cart Scripts (software) are what allows your website to take orders, calculate tax, shipping, process customer returns, send receipts & other notifications.
Money
You must have the ability to accept payments online. Customers want to feel secure with the fact that their payment information is going to be safe and secure. A secure web server is the 1st step, but you will also need a safe way to process a customers credit card information.
First you will need to set up an Internet merchant account with the bank that you will be using to allow the from purchases money to flow from your websites customers and into your bank account.
You will then need a payment gateway account for your website, which acts to facilitate all your websites transactions. Some of the shopping cart scripts (software) may come with this capability but make sure to double-check before spending more money on another unneeded service.
Another optional way to go is to use PayPal on your website as your payment processor. Most people trust Paypal & it's very secure. Paypal doesn't charge a monthly fee for their service but they do charge approximately 3% for every purchase transaction, so you'll want to think about that if you choose Paypal.
Even if you have separate payment processing service, it's always a good idea to offer your customers a PayPal option because some customers will not trust any other online payment processor. PayPal also offers a basic shopping cart software application for a reasonable price if you don't want highly-customized functions.
The Final Checks
Once you think that your eCommerce website is ready, make sure and run a few quick checks to make sure that everything is functioning as is should. You will want any pictures to load quickly, web pages should scroll smoothly & the whole website should function properly, smoothly & quickly.
Run a test with a few transactions just to make sure that the payment goes through correctly, shipping costs are accurate & your receipts & shipping notifications are sent out as they should be.
Double-check all of the spelling on your website, all photo orientations & sizes, verify that all of the links on your website are working, & also run a load test on your website to make sure the website can handle any heavy traffic it might encounter. After everything is up and running properly make your website live & make some money!
If you have a question or comment on the article above the please feel free to leave us a reply below.

---
---