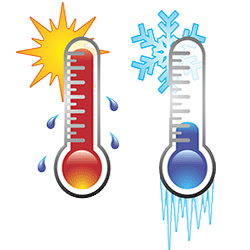 In today's economy, everyone is trying to find ways to help them to save money and cut back on their expenses. Saving money on your monthly utility bills is a great way that you can save some good money that can be put to better use than just sending it to the utility companies.
Two of the most costly necessities that really add to your monthly utility cost expenses are the heating and air conditioning costs for your home. Making some quick and easy changes in these two areas will help you to save a nice chunk of cash on your monthly utility bills each month.
Below, we have listed some of the best ways to help you save money each month on your utility bills so that you can put that cash to better use. We hope that you are able to implement as many as possible and really see the savings add up.
Heating & Air Conditioning Savings Tips
1. Open up your home's air vents. If you have the air vents in your home opened up, the air conditioner or heater in your home won't have to work as hard to circulate the heated or cooled air throughout it. Even if you think that all of your home's vents are open, it's a good idea to check them to make sure.
2. Use an electric blanket on your bed to keep yourself warm when you're sleeping. It's true that electric blankets will use your electricity, but if you're only using them when you're sleeping, it'll focus the heat it produces just on your bed as you sleep. This way you won't have to pay to heat up your entire home.
3. Turn the heat setting down on your home's thermostat during daytime. Make sure that you do not turn it completely off because that will cause your home's heating system to work much harder to catch up on heating your home when you decide that you are ready to turn the heat up. It will cost much more money to completely reheat your home, so just turn your thermostat down a little bit.
4. Close all of your doors. If you're going to be in a particular room in your home for awhile, at night, as an example, close all of the doors in that room. This will help to conserve the heat in that room.
5. Open your window shades up in the morning and then close them at night time. Sunlight can really help to heat up the room in a house. However, at nighttime, it's always best to close any open blinds and curtains so that there isn't any heat loss through the glass of any windows.
6. Seal all windows & doors. Not completely obviously, but just enough so that it will help to keep any drafts out. Hardware stores carry weather stripping that has a back side that has adhesive so that you can just cut it to fit your need and it will stick to anything that might have an air draft or leak.
If you have a question or comment on the article above the please feel free to leave us a reply below.

---
---