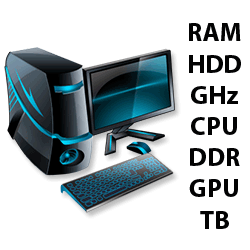 The computer has changed from just being a technological gadget into a super technologically sophisticated personal must have item. There is basically nothing in our modern world that doesn't rely on computers. People will need to be able understand all of the basic computer terms and what their meanings are if they want to stay up-to-date with the modern world.
(Disclaimer: Purchases through links on our site may earn us an affiliate commission.)
If you do not know the basic computer terms you can wind up looking look like a lost soul in the world of technology. Just about everything that we do in our lives these days relies on a computer in some way. Because of this a person must know the basic computer terms and their definitions.
Listed below you'll find some of the most useful computer terms and their definitions. We hope that after reading this article you may have learned some terms that you did not previously know.
Basic Computer Terms and Definitions
(The Term is followed by it's definition)
Computer – A computer is an electronic device that makes computations so that it can execute a particular program, which is a sequence of computer codes and automatic instructions.
Program – A program is a piece of software that is executable. A program contains compiled set of codes that run directly from within the computer's operating system.
Operating System – An operating system (known better as an OS) is the computer's software that communicates with all of the different hardware that is part of the computer. The operating system of the computer tells the computer exactly how to operate any software that is to be used on the computer. It also serves as an interface to the computer's user and it helps to allocate it's memory, it's tasks, it accesses it's disks, as well as it's peripherals.
Command – A command is a series of instructions that helps the computer perform a specific task or function.
CPU – The CPU (short for central processing unit) known as the microprocessor or processor that is the brain of the computer system. The CPU helps the computer to execute the instructions found in it's software programs and helps to retrieve instructions from the computers memory, it serves to comprehend and execute instructions, and it helps to direct all of the input and output of the computer.
Desktop – The desktop is the part of the display or the screen of the of the computer against which the operating system (OS) and access application programs, documents and files are displayed for easy access.
File – A file is a storage unit for information that includes but is not limited to word-processors, spreadsheets, music, pictures and so on. Every file on a computer has a different and unique name.
Folder – A folder is a system that helps to organize a computer's files, it's topics, as well as all of it's programs. Many similar applications in a certain folder are usually grouped together when an application program is loaded into a computers memory.
Hard Drive – A hard drive is the device on the computer where the most of the information is stored and helps the computer to retain and store it's data permanently.
Hardware – A computer system consists of a monitor or display, a keyboard, a mouse, touchpad or touch screen, a processor, possibly a printer, etc. and these are known as a computer's hardware.
Hyperlink – A hyperlink is a small computer instruction that aids in moving from one website page to another.
Internet – The Internet is a network of computers around the world that help to connect millions of people so that they can share and exchange information, data, news, stories, etc.
Monitor – A monitor is the screen or display of the computer. It's how users can interact with their computers, and shows the input from the computers mouse and it's keyboard.
Mouse – A mouse is a hand operated device that aids the user to move across the flat display surface and helps to control the computer's pointer shown on it's display. It helps a person move the pointer faster across the display and it performs many tasks very fast.
Keyboard – It is the hardware piece that inputs typing words & numbers along with the symbols into the computer.
RAM – A computer's RAM which is short for Random Access Memory is the computers temporary data storage that helps to place data information that is used to execute a program & it's instructions. Once a computer is powered off all of the data that was stored in the RAM is gone.
Web Browser – A web browser is a software program that helps to render the source code web pages so that the information on the web pages can be viewed by the user. The information is rendered in to an understandable form of data by the browser.
Peripherals – Computers peripherals are the input devices that are connected to a computer. A printer, a keyboard, a mouse are examples of peripherals.
Networks – A network is a logical or physical construction that can connect many different computers all together and it helps them to communicate with each other. Networking can be wireless or through cables.
Software – Software is a specific set of instructions that are given to a computer giving it step-by-step instructions that help the computer to execute a specific task. Computers need software to operate.
Computers have become an important part and of our lives. People have become so dependent on their computers that a minor computer glitch can send life into chaos. A person needs to learn how to use a computer system just as much as they need to learn how to read & write.
We have become so dependent on computers that everyone must learn the basic terms and their meanings. We hope that we have help you in learning some of these.
If you have a question or comment on the article above the please feel free to leave us a reply below.

---
---