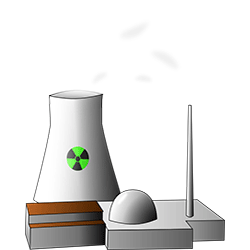 A nuclear power plant converts the energy that is released by a process that converts nuclear fission into electrical power. The process of this conversion takes place inside of a nuclear reactor where heat from a process called nuclear fission is removed, and then this heat is then used to produce steam.
(Disclaimer: Purchases through links on our site may earn us an affiliate commission.)
This steam that's created drives a steam turbine that is connected to a generator. This generator then converts the turbine output it receives into electrical power. The nuclear plants that have the largest generators are the ones that have the highest electrical production capacity.
Today, you can find nuclear power plants currently in 30 countries around the world. There are over 440 separate nuclear power plants in these countries that supply approximately 14% of the electricity that the world currently uses.
Below, we have our listing of the worlds 3 largest nuclear power producing plants. These nuclear power production plants are rated below by their installed capacity.
Largest 3 Nuclear Power Plants in the World
#1. The Kashiwazaki-Kariwa Nuclear Power Plant
✇ Country = Japan
✇ Installed Electrical Capacity = 8,212 MW
The Kashiwazaki-Kariwa nuclear power plant was starting to be built in the year 1985. However, this nuclear power production facility didn't start it's operation until 1997. This power plant houses seven nuclear reactors inside of it, each with a capacity to produce more than 1000 MW of electrical power.
This nuclear power plant suffered a large amount of damage in 2007 due to an earthquake and this caused a shutdown of over 21 months because of the damage it received from the earthquake. Then, after yet another earthquake in the year 2011, many new and improved safety precautions & measures have been put into affect.
#2. The Bruce Nuclear Generating Station
✇ Country = Canada
✇ Installed Capacity = 6,232 MW
This nuclear power plant is located close to the shore of Lake Huron. As of the year 2014, this nuclear power production plant is the largest nuclear facility in the entire world. This tremendously large nuclear power producing facility was commissioned in 1977.
Currently it has 8 nuclear reactors in operation. All of the nuclear reactors at this facility are 100% functional & thus, the net power generation of this power plant is 7276 MW.
#3. The Zaporizhzhia Nuclear Power Plant
✇ Country = Ukraine
✇ Installed Capacity = 6,000 MW
This nuclear power plant is the largest nuclear power plant in all of Europe. This power plant has a total of 6 nuclear reactors installed at the facility and each nuclear reactor has an electrical output capacity of approximately 1000 MW of electricity.
The electricity that's generated from this nuclear power plant supplies approximately half of the entire country's electricity requirements. This power plant was commissioned in 1985 and as of now, every one of their six nuclear reactors are 100% fully functional.
These are the three largest nuclear power plants in the entire world, rated by their installed electrical output capacity. The United States of America has the largest combined electrical output capacity from all of it's nuclear power plant facilities at in excess of 100,000 MW of electrical output capacity.
We are relying on nuclear power more and more each year due to the world thirst for electricity to power our modern society. As nuclear power plants are a green way to help quench the worlds electrical needs, the number of nuclear power plants in the world will continue to grow as well as the size of these facilities.
If you have a question or comment on the article above the please feel free to leave us a reply below.

---
---