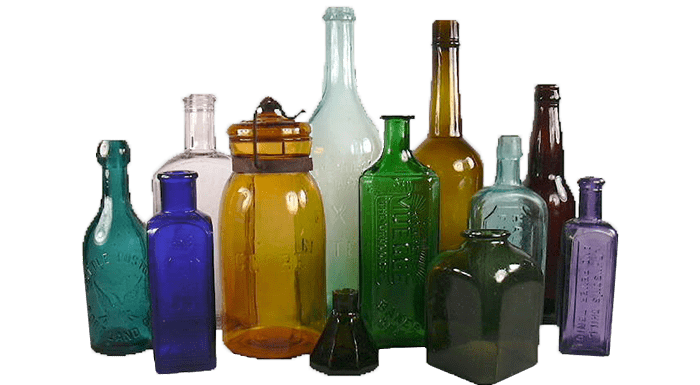 Imagine yourself having some gorgeous colorful antique bottles displaying decorative fairy lights, or perhaps a brilliant blue-colored antique bottle with a candle placed in it gracing the center or your dining table. Sounds nice, doesn't it? Vintage antique glass bottles can make for quite a creative and chic décor option, while at the same time being cost effective and not burning a hole through your wallet.
(Disclaimer: Purchases through links on our site may earn us an affiliate commission.)
If you've decided to create your own antique bottle decor or perhaps you want to find a good use for a precious family heirloom, we suggest that you restore these antique glass bottles yourself and not have the restoration of these antique bottles to professionals since those can be quite costly. Cleaning antique glass bottles can be easy and cost effective if you do it right. Here are some helpful tips to help you do the restorations yourself.
If the bottle that you want to restore only needs a little minor clean up, then below are some easy ways that you could clean it at your home.
How To Clean Antique Glass Bottles:
#1. Soak Them
I want to suggest the easiest thing to do first. Try soaking your antique glass bottle in water with some good detergent for several hours, or perhaps even overnight. Follow that by a good scrubbing and that might do the job! If any of the dirt seems really stubborn you might also try a mixture of 1 part water to 1 part vinegar.
You can also try 1 part chlorine bleach to 12 parts water as an alternative. Some people even use denture cleaning powder or tablet to water while soaking the bottles. Just make sure not to soak the antique glass in water that's either too hot or too cold, just to help prevent them from any possible cracking.
#2. Use Some Mild Acid
If your antique glass bottle has developed some crusty white rings on it, just soaking is not going to help. This white crust is called mineral deposits. The only way to get rid of these white rings is with some type of mild acid. Lots of people soak their glassware in mild acids like the acid called muriatic acid in a diluted form for a couple of hours, or even a day, before they try washing it off. This type of acid can be very corrosive to human skin, and the fumes from it may irritate your eyes, so you will need to wear rubber gloves and some form of protective eye-wear before using this acid.
A product called "Limeaway" is a great cleaning product that is free of corrosive acids and it can help to remove these mineral deposits easily and quickly.
#3. Try Copper Wool
If you have tried the other methods but can't seem to get your bottle clean enough, you can then try scrubbing the bottle with a copper wool. This is an easy way to help with cleaning glass bottles without much risk of damaging them.
#4. Try Using Potatoes For Rust Spots
Cut a raw potato in ½ then sprinkle some coarse salt and baking power on it's surface. Rub the potato with the salt and baking soda side on the rust spots. To do the inner surfaces of the bottle, cut your potato a little smaller, then take and jab a fork onto the skin side of the potato, then sprinkle some baking soda & coarse salt on the potatoes' cut side. Then take and insert these pieces into the glass bottle and try to rub it on the inner surfaces to try to remove any rust spots that are inside the bottle.
#5. Removing Dried Ink
If you have an antique ink bottles that have dried ink on them, first you could try soaking them in a soapy water solution. If that doesn't help any, you could try adding a little nail polish remover or maybe some pure alcohol to the bottle, and keep it soaking for a couple of hours. Then drain any liquid out and take and scrub the ink bottle more and then rinse it out well.
We hope that some of these tips can help you to restore some nice antique glass bottles that you can use to decorate up your home or office. Perhaps you might even be able to use them for their intended purpose again. Throwing these glass bottle in the trash is a shame but by cleaning them up you can find a good use for them and give them new life.
If you have a question or comment on the article above the please feel free to leave us a reply below.

---
---